"Even in death, I still paint"
Welcome to the first Thunderhead Studio Paint Pro Competition! These painting competitions are intended to be a low-pressure environment for painters who are looking to improve their work and receive comprehensive feedback in preparation for higher level painting competitions.
For this first competition, I ask you to share in my love of the classic boxy 40k Dreadnought! In a time of upheaval, when model ranges are being updated and older sculpts rendered out of print... I decided to engage in a labor of love and bring my favorite, stumpy, boxy dreadnought design into the future, giving in an aesthetic update and rescaling to better fit the new line of Space Marine miniatures, and better match the lore and art of the venerable sargophagi that bear the ancients of Space Marine Chapters forward into eternal war.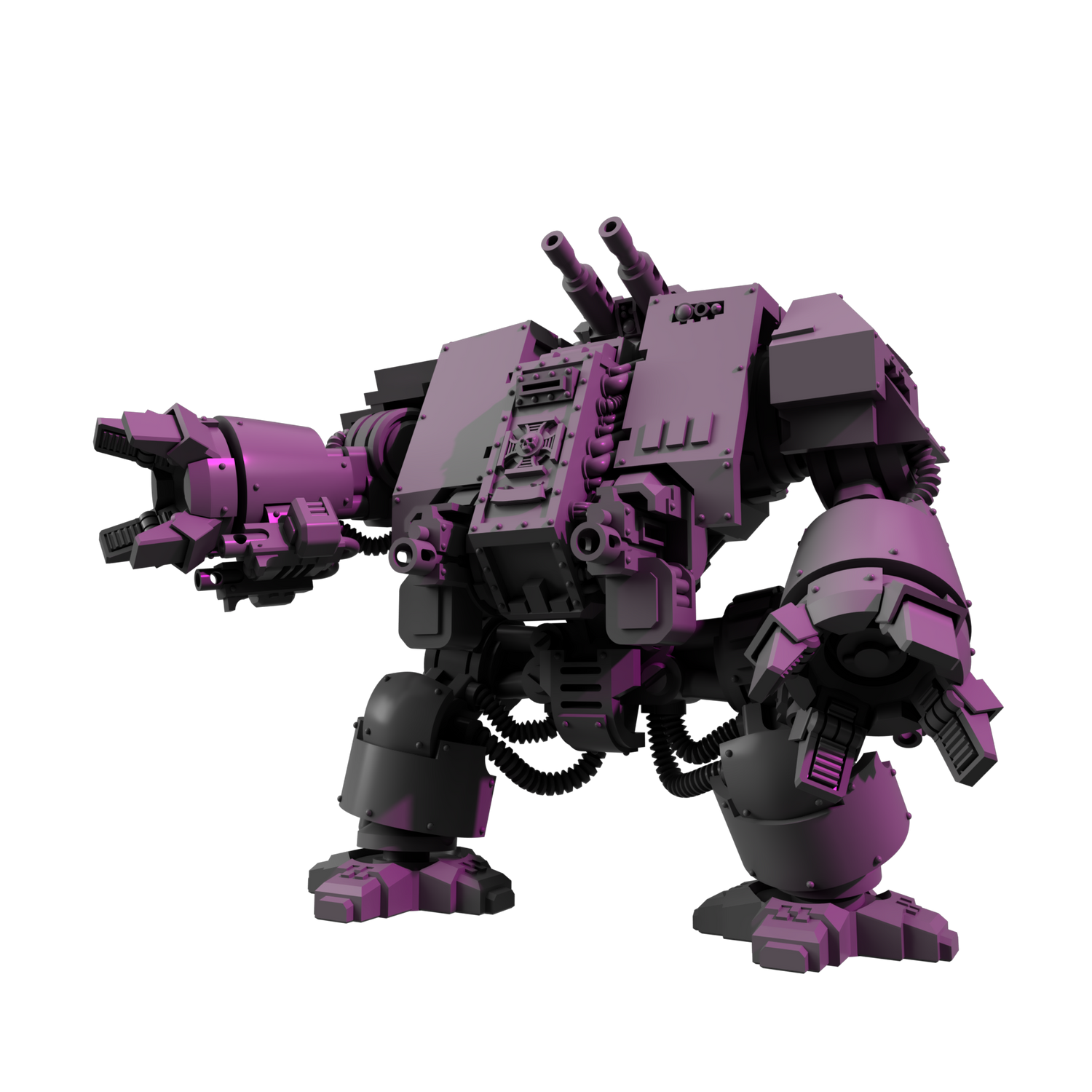 Entrants of all skill levels are encouraged to compete, and detailed feedback from the contest judges will be offered!
An emphasis will be placed on professional presentation and execution, helping entrants to understand the criteria that judges look for, and to help them build confidence to make entries in higher level competitions at major gaming conventions.
Categories and Prizes
Best Overall

The entry with the overall highest average score in all categories will be awarded as Best Overall.

Prize: Warhammer 40k Leviathan Box Set

(Limited based on shipping costs. International shipping may be cost prohibitive for this box, and if so an alternate award will be offered in the form of store credit for Thunderhead Studio or Death Ray Designs.)

Best Amateur Entry

This special category will be up to the discretion of the judges. Entrant's relative skill level and experience will be considered, and the best effort for an amateur or newcomer to the hobby will be awarded Best Amateur Entry.




Prize: Warhammer 40k Ultimate Starter Set

Best Composition

The entry demonstrating the best understanding of model composition, how each texture, color, and shape contributes to the piece overall, will be awarded Best Composition.



Prize: Limited Edition John Blanche Art Print with Certificate of Authenticity

Best Basing

The entry that most successfully creates an immersive environment for the model and integrates the model into that environment believably will be awarded Best Basing.

Prize: Limited Edition John Blanche Art Print with Certificate of Authenticity

Best Custom Conversion

The entry which best executes the addition of creative conversions, modifications, sculpting and personalization of the model will be awarded Best Custom Conversion.




Prize: Horus Heresy Leviathan Siege Dreadnought

Community Choice

Community choice will be determined based on ranked community voting. Entries which have already placed in another category will be considered ineligible, and the next highest ranked entry will be awarded Community Choice.




Prize: Warhammer 40k Starter Set
Rules and Criteria
Start Date and Submission Deadlines

Entry Guidelines

All entries must be primarily the 3D printable "Recursor" pattern dreadnought, designed and released by Thunderhead Studio.
Model must be attached to a circular base no greater in diameter than 90mm.
Diorama style entries are permitted, but model must be capable of being removed from the diorama along with its base.
Modifications and conversions are permitted, including battle damage, additional decorative bits, etc.
In any conversion, diorama, or modification the entrant must ensure that the "Recursor" model remains the focus of the overall piece. If in doubt, please contact the judges.
One entry per person.

Acquiring the Model

The STLs for the "Recursor" Pattern Dreadnought is currently unavailable to the public. Please visit the Thunderhead Studio Discord for more information.

If you do not have a resin 3D printer or access to one and still wish to participate, please visit the Thunderhead Studio Discord, where we maintain a forum to find volunteer printers local to you willing to provide the model.

Submission Requirements

To be eligible for judgment and placement, entrants must submit the following photographs of their entry:

3/4 Front View
3/4 Rear View
What the entrant considers their "Golden Angle"


Judgment Criteria

Entries will be judged and awarded placements based on the following criteria:

Quality of photographic presentation
Technical execution (i.e. no brush strokes visible, smooth coats, execution of chosen techniques such as blending, object source lighting, etc.)
Composition (i.e. value, saturation, and temperature contrast, balance, focal points, etc.)
Basing/Environment (Does the base represent an environment, and how well does the model integrate with that environment?)
Customization and conversion
The submission period for the contest is now CLOSED!
Stay tuned for a link to the community vote!
Disclaimer: Physical prize availability will be restricted based on geographic location in some cases. Larger items may become prohibitively expensive to ship internationally, and in that case an alternative award will be arranged in the form of store credit for Thunderhead Studio or Death Ray Designs.